The Great Western Railway inherited a vast number of run-down or even life-expired locomotives when it absorbed the independent companies of South Wales in the 1923 railway Grouping.

There was an urgent need for new motive power, and the Chief Mechanical Engineer Charles Collett opted to base it on the successful 0-6-2T wheel arrangement that had been favoured by the independent companies. The first of two hundred locomotives, Number 5600, was finished at Swindon works in 1924. The 56xx class may not have been the best looking machines on the Great Western, but they were powerful locomotives for their size, and became popular with their crews.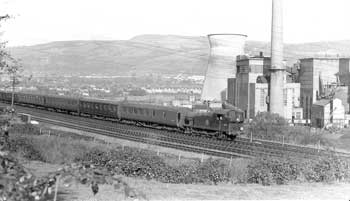 5643 emerged from Swindon Works in October 1925. It spent its entire working life in and around South Wales. It is seen here on the five coach 1100 Merthyr to Barry Island stopping train passing Upper Boat Power Station on the former Taff Vale Railway on 25th October 1956.
This picture was taken by Sid Rickard and is now part of the J&J Collection - and is reproduced here with their permission. Keith Jones of the J&J Collection told us that you can still get to the same vantage point but the line at this point is now only two tracks and the power station is no more. He says he remembers 5643 well from its many years at Abercynon (see below) but never took a photo of it himself.
The photo can also be found on the website of the local Rhondda-Cynon-Taf council. This was where it was spotted by Amy Adams - who used to live in South Wales but is now a London Underground District Line Driver. A railway enthusiast herself, she brought it to our attention, knowing that photos of un-named preserved locomotives are pretty rare. Thanks to Amy and Keith for their help drawing this photo to our attention!
5643 Shed Allocations
not including temporary short-term loans to other sheds in South Wales

October 1925

Coke Ovens shed (Pontypridd)

December 1933

Abercynon shed

June 1961
Barry shed

July 1963

Withdrawn from service
After 38 year's service, 5643 was withdrawn in July 1963, and was moved just a matter of yards to the now famous Woodham's scrapyard in Barry.
The owner Dai Woodham made the decision to stockpile old locomotives because he was receiving more income from scrapping railway wagons. It was a decision that effectively saved hundreds of steam locomotives from the cutting torch. 5643 was such an engine, and was one of the first to leave Barry scrapyard.
It was originally purchased for a now defunct steam operation in its native South Wales, but was soon transferred to Lancashire, and the now also closed Steamtown Railway Museum at Carnforth, near Lancaster.
It was bought in 1986 by members of the Lakeside Railway Society, moving to Haverthwaite 3 years later. The LRS later set up the Furness Railway Trust as a charity to manage its assets, and so 5643 passed to its present owners. It was restored to action in 2006.
---
Now why not read about "Cumbria", the Furness Railway Trust's workhorse locomotive?


You can read about our express passenger engine, GWR 4979 "Wootton Hall" simply by clicking on the picture here.

"Fluff" was our very first engine. It's been out of use for many years but work is now underway to see if it can be returned to action.
Home | About us | FR20 | 5643 | "Wootton Hall" | "Cumbria" | Vintage Train | Museum | Gifts | Live Steam | LRS | Links
İFurness Railway Trust