The Furness Railway Trust is a Registered Charity, based in North West England. Originally based at the Lakeside and Haverthwaite Railway in Cumbria, we are now based in Preston, and have evolved to become a leading hirer of locomotives and rolling stock to heritage railways and museums. Why not join us?
To find out the latest news, and what we've been up to most recently, why not visit our weekly blog?
We are now a Charitable Incorporated Organisation, a new type of corporate body that amongst other things allows the charity to take out the lease for its shed in Preston. You can read about why we made this change to a CIO, and see the new constitution.
We have now completed one of our long term goals - to create our own workshop. It has been our number one priority for many years to provide suitable facilities for restoration work. The Trust is working in partnership with another charity, the Ribble Steam Railway in Preston, and together we have erected a sizeable building that is now the FRT's main base to carry out overhauls and restoration work. Once completed, our locomotives and rolling stock are on display and are demonstrated in action at the railways up and down the country where they are on hire.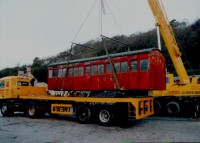 We own a number of locomotives, including the oldest working standard gauge steam engine in Britain, Furness Railway Number 20. There is much more about this historic and important engine - and stablemates GWR 0-6-2T 5643, Austerity "Cumbria", GWR 4-6-0 "Wootton Hall" and "Fluff" elsewhere in this website. Our current projects range from steam locomotives to our vintage train, fund-raising and even folk music....!
There are lots of ways you can get involved with the Furness Railway Trust - the best is for you to join us as a member! Membership includes receiving the Trust's award-winning magazine "The Iron Horse".
The FRT's Committee members and Trustees carry responsibility for delivering our projects.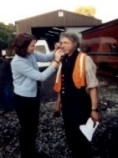 Got something you want to tell us? We have Email, postal and telephone contacts for the FRT.
As the name implies, the Trust has an affinity with the old Furness Railway, which operated in part of what is now Cumbria between 1846 and 1923. But our activities go wider than this, and we are now recognised as one of the leading players in the field of railway preservation in northern England.
This the Trust's award-winning website.
The Trust has updated it's Privacy Policy in line with the General Data Protection Regulation; the updated policy can be viewed here.
---
Home | About us | FR20 | 5643 | "Wootton Hall" | "Cumbria" | Vintage Train | Museum | Gifts | Live Steam | Links
©Furness Railway Trust