There has been a real need for suitable accommodation to restore and maintain the Trust's collection, and to display those small artefacts that cannot be hired out to other museums and heritage railways. A major workshop building has now been completed at the Ribble Steam Railway in Preston - the preferred choice of the Trust's 2008/09 Feasibility Study. The Furness Railway Trust is now emerging as a major provider of heritage railway locomotives and rolling stock for hire, with the collection housed at various locations around the county with a central base at Preston to carry out the restoration, overhaul and maintenance work.

This building is insulated, has an eco air source heat pump system to provide warmth, solar powered electricity and lighting, and air lines to reduce reliance on electrical tools. Its completion marked a step change in FRT operations.

The RSR is a Museum in its own right, and is keen to display FRT memorabilia alongside its own collection.
This engine is now a major player in the heritage railway world, winning hearts everywhere it's been. Since 2009 it has mostly been based at Locomotion - the National Railway Museum at Shildon in County Durham, but it also has visited numerous heritage railways and museums.

The oldest working standard gauge engine in Britain, plus the North London Railway Coach, were amongst the star guests at Railfest 2004, marking the world's first steam railway, 200 years ago. The North Yorkshire Moors railway wrote a glowing "thank you" letter following our visit in the autumn of 2000, saying the staff had "fallen in love with the locomotive" and praising us for our "enthusiasm and dedication in providing such a spectacular and unique train" that was the "highlight" of their gala event.

As well as a decade operating special trains at the Lakeside and Haverthwaite Railway, it has also been to the Keighley and Worth Valley Railway, the Barrow Hill roundhouse and Midland Railway Centre. You can rest assured that these won't be the last special appearances - watch this website for the the latest news first!

In September 2000 we completed a contract for the locomotive to appear in a starring role alongside Gwyneth Paltrow in her film "Possession", based on A. S. Byatt's award-winning novel (see photo, left).

FR Number 20 is limited to a maximum trailing load of 75 tons, because of its age, and relatively low power output by modern standards. For this reason it is not used on service trains but is restricted to special services.

Although the locomotive is now a "runner", there is still much work to do. It needs much running maintenance, being the oldest working standard gauge steam locomotive in the country, and also needs to be kept spotlessly clean: one of the requirements of the grants to fund the restoration was that it would be a 'working museum piece'.
This locomotive is is now complete and earing its crust, representing the FRT at heritage railways across the country. It is spending 2016 on hire to the Embsay and Bolton Abbey Steam Railway, the latest line to hire in this workhorse locomotive. In its first full year of active service - 2007 - it was the star at nine separate steam gala events!

Like many ex-British Railways engines, it was sent to the Barry scrapyard at the end of its life, but was not cut up, and was "saved" in the 1970s. Several earlier restoration projects foundered, before it was bought by the Trust.

Income from hiring fees by other lines to use locmotives like 5643 helps pay for future projects.

A travelling team headed by Keith Brewer makes frequent visits to the locomotive wherever it is on hire, to keep on top of maintenance tasks. It is hoped that this will not only ensure the wheels keep turning, and so bring in the revenue, but fingers crossed also will allow a speedier turnaround at the next heavy general overhaul when the time comes.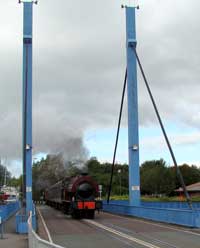 Hunslet Austerity Cumbria
Cumbria was the FRT's first steam locomotive, bought to run trains on the Lakeside and Haverthwaite Railway, a role it performed excellently for 35 years. Surpassing 100,000 miles, almost certainly the first non British Railways locomotive to achieve this feat in preservation, it ran approximately 40% of the total passenger mileage on the L&HR in the time it was resident there.

Since leaving Haverthwaite, Cumbria appeared at its new base, the Ribble Steam Railway, and has undertaken periods of hire to the Cholsey and Wallingford Railway and the Embsay and Bolton Abbey Steam Railway. After a heavy general overhaul including extensive specialist firebox repairs and the manufacture of a new saddle tank and pistons, Cumbria returned to action in 2015 with hires to the Mid Norfolk Railway and the Battlefield Line, which is hiring the loco again in 2016. Like 5643, income from Cumbria's hire fees helps pay for future projects.
Next in the queue is our "big" engine! There had long been a desire amongst members to own a main line tender locomotive, preferably one that hauled express passenger trains. 4979 "Wootton Hall" came up for sale locally in early 1994 and members of the Trust stepped in quickly to secure the purchase.

It is now in ourworkshop at Preston, where initial work is being undertaken on both the locomotive and tender. It is the Trust's intention that the tender should be completed first, as there is the possibility this could be hired out while work continues to return the locomotive to operational condition. To this end the tender tank, which had rusted through, has been removed so a new water tank and coal space can be manufactured. Meanwhile some badly wasted metal on the locomotive has also been cut out, to stop the further spread of rust.
"Fluff" was our first locomotive, bought from the Barrow Steelworks.

The little diesel has been out of action for a number of years, but has now received a cosmetic restoration, carried out by two of the FRT's younger members.

Now this important part of our heritage is at the Ribble Steam Railway, after a number of years on display at Vintage Vehicles Shildon, just a stone's throw from FR 20 at Locomotion. Initial exploratory work is now underway about a possible return to action.
The Furness Railway Trust owns the oldest working standard gauge steam locomotive in the country. Now we are making real progress assembling a suitable train that is worthy to go behind an engine as special as Furness Railway Number 20.

The first major step was taken on 15th February 2001, when the Trust was awarded a grant of £49,200 from the Heritage Lottery Fund, covering 85% of the cost of restoring the first vehicle in this train. This paid for the return to working order of the Trust's North London Railway 2nd class coach body, which later ran on the Furness Railway before ending up in the grounds of Ulverston station. This body had then been used as a store at Haverthwaite for thirty years. The restored body is mounted on a shortened former British Railways PMV luggage van; the contracts for both the chassis shortening, and the repair of the old teak body, were let to the Appleby Heritage Centre in East Cumbria.

The coach is described as "unique" and "historically very important" and passengers can now experience Victorian-style travel behind a Victorian locomotive.

The Trust also has in its possession a NLR Birdcage Guards brake van, a matching NLR 2nd class carriage, and a NLR 1st class carriage that was converted to an ambulance coach in the First World War. These four together will form a cohesive and attractive vintage train.

The icing on the cake is our flagship vintage carriage - Great Eastern Railway Number 5, the former Royal Saloon built for Princess Alexandra in 1898. It was retired from Royal Train duties in the 1920s and was converted to be the Inspection Saloon for the Civil Engineer based at Stratford in Essex. After withdrawal in 1972, it was privately purchased and put into storage.

This vehicle is now back in service for the first time in 38 years after a rapid overhaul by FRT volunteers carried out in space very kindly loaned at the Appleby Heritage Centre.You can read the fascinating month by month diary of the overhaul. This iconic vehicle is now at the Beamish Museum in County Durham carrying the first "normal" passengers in its history!

Progress on assembling the rest of our vintage train will resume once volunteers complete the overhaul of our British Railways Mark 1 RMB Buffet car number 1812. Ownership of this vehicle will then pass to the Ribble Steam Railway as a part payment for our new workshop building. As the vehicle is surplus to FRT requirements, the decisionw as taken to pass it to the RSR to keep in close at hand to the volunteers who have owned and tended it for many years, rather than selling it on the open market where it could then end up at a heritage railway at the other end of the country.
Railway restoration and maintenance is an expensive business! It cost about £150,000 (in 1999 prices) to return Furness Railway Number 20 to working order. The work to return 5643 to steam set us back by well over £100,000 (and this is very cheap, because so much of the work was done by volunteer labour) - and this money had to be raised from scratch following the completion of Furness Railway Number 20, which had drained the coffers dry. The money we'd saved up after 5643 started operating was all committed to the workshop project, and the overhauls of "Cumbria" and 5643. So where does all the money we need come from?

First of all, many of our members supplement their annual subscriptions with donations towards the activities of the Trust. Members of the public also make donations when they visit Furness Railway Number 2o or other locomotives. The Trust is eternally grateful to all those who give money to help us achieve our goals.

Our chairman, Tim Owen, who undertook a major part of the restoration of Number 20 along with locomotive superintendent Alan Middleton, has written a book on the engine, titled "The Great Survivor". This brings in a steady stream of income not only from our sales stand but everywhere the engine goes too.

In 1999 we were also given a lovely water-colour of Number 20 at work on the L&HR, donated by the artist Roger Street to use as we chose to raise funds. This kind offer was made by someone who is not a member of the Trust, and indeed had never even seen the locomotive in the flesh at the time he committed it to canvas (he worked from photographs); we are extremely grateful for this kind offer. A limited edition series of 850 prints are selling well, and are also making us money.

We have a sales stand that tours model railway exhibitions, traction engine fairs and the like which brings in a slice of revenue.

In addition, having 5643, "Cumbria" and Furness Railway Number 20 out and about brings in an income: we charge other railways a daily steaming fee for the privilege of using our locomotives. The filming contact with Gwyneth Paltrow also brought in some money in hiring fees, but is equally valuable in raising the profile of the Trust.

And then there's our musical dimension...
How many heritage railways can lay claim to having their own folk group?! The social side of the business has always been very important to us, and Live Steam was born of sing-a-rounds in the mess van after an evening in the local pub! Unlike most such singing sessions, these ones were at least half decent, and a band was formed to take things further.

That was all in the dim and distant past, and Live Steam are now a regularly established feature on the local music circuit - performing all over Cumbria and Lancashire on a regular basis, and donating their fees to Trust funds.

Their fame has also spread round other railways, and quite a number have asked the group to visit and perform at their line. The National Railway Museum also hired the group to play there. A CD is now on sale, as are number of cassettes, all of which help raise funds for the Furness Railway Trust.
Home | About us | FR20 | 5643 | "Wootton Hall" | "Cumbria" | Vintage Train | Museum | Gifts | Live Steam | Links
İFurness Railway Trust