"Cumbria" was built to the wartime "Austerity" design, slightly modified by Mr. R.A. Riddles, by the Hunslet Engine Co. of Leeds in 1953. It carries works number 3794.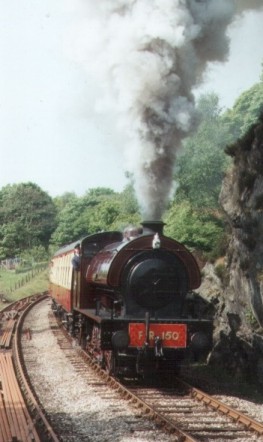 The locomotive was delivered as WD 194 to the Longmoor Army Stores Depot in southern England as part of the Strategic War Reserve. Despite being brand new, it was immediately put into store! Two years later, in 1955 when the Stores Depot closed, the engine was transferred to Bicester in Oxfordshire where it was put into traffic in 1958. After ten years of service, it was completely overhauled and retubed before being put back into store again!
This time, though, it was only a matter of months before the engine was transferred to the Weapons Testing Depot at Shoeburyness in Essex to replace another locomotive, whose firebox had been condemned. Its days at Shoeburyness were very leisurely: the locomotive was only steamed once every twelve weeks, the main duty being to haul the 50 tons Cowan Sheldon steam crane when gun barrels needed changing on the gunnery ranges. After a quiet career with the Army, the locomotive was purchased from the Ministry of Defence in July 1973 by the Lakeside Railway Society.
It arrived at Haverthwaite in September of that year, still bearing the khaki Army livery and the number 94, and entered traffic in 1974 after being fitted with the Alan Middleton vacuum equipment.
The engine was painted maroon and named "Cumbria" by Councillor Tim Westall, the Chairman of the then newly formed Cumbria County Council, at Haverthwaite on 11th May 1974.
It became the mainstay of the locomotive fleet on the Lakeside and Haverthwaite Railway, covering over one hundred thousand miles on the three and a half mile line. This represented over forty per cent of the locomotive mileage since the L&HR reopened to passenger traffic in 1973.
In 2009, "Cumbria" moved to a new home base at the Ribble Steam Railway in Preston, whilst available for hire elsewhere.
Weighing 48 tons 5 cwts, it has two inside 18" by 26" cylinders and a tractive effort of 23,870 lbs. This makes it ideal for handling five and six coach trains, although it has on occasions been called upon to haul eight fully laden coaches on busy days.
Cumbria was repainted into the livery of the Furness Railway in 1995 to celebrate the 150th Anniversary of that railway company. This has proved to be a popular decision, and the paint scheme complements that of the Trust's 1863 built Furness Railway Number 20 when they double-head trains together.
Home | About us | FR20 | 5643 | "Wootton Hall" | "Cumbria" | Vintage Train | Museum | Gifts | Live Steam | Links
©Furness Railway Trust