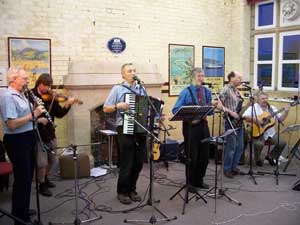 The Furness Railway Trust's very own folk group, Live Steam, has been playing music now for getting on for 30 years.
The band regularly plays live gigs around Cumbria, and at heritage railways the length and breadth of the country. Live Steam has been in the recording studio a number of times in it's quarter of a century plus of existence - most recently to produce the CD recording "Silver Jubilee", which celebrates the band's repertoire of classic folk music - a departure from previous recordings of railway songs. You can hear excerpts on this website!
As well as "Silver Jubilee", the band has produced a number of cassettes, featuring railway songs, and including one that tells the story of the old Furness Railway.
It all began with evening singing sessions in the mess room at Haverthwaite after volunteers from the Lakeside Railway Society had returned from the local hostelry! The group became formally established after a local pub landlord invited them to perform in public on a regular basis.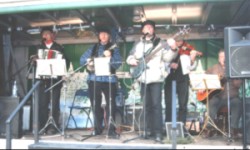 Live Steam has since performed many gigs in the Northwest of England for pubs, birthday parties, weddings and other special occasions. Railway songs have become a speciality, with the group writing some of its own material, but the CD is a railway- song-free zone, with members recording some of their favourite out-and-out folk songs.
The band is now a regular at Ulverston's Dickensian Festival every November, seen here on the County Square stage during the 2005 event, and just a stone's throw from the FRT Victorian Railway shop and exhibition.
Live Steam has been sought after to play at many preserved railways such as the East Somerset Railway, Bo'ness & Kinneil Railway, North Yorkshire Moors Railway, Great Central Railway and Dean Forest Railway as well as the National Railway Museum and the Didcot Railway Centre.
All proceeds go to the Furness Railway Trust for its restoration projects. You can enquire about a booking using our contact form, or by telephoning Tim Owen on (015395) 58701.
Home | About us | FR20 | 5643 | "Wootton Hall" | "Cumbria" | Vintage Train | Museum | Gifts | Live Steam | Links
İFurness Railway Trust