THE FURNESS RAILWAY TRUST
Registered Charity 1005211
Furness Railway Number 20 is now well established as the must-have star turn at heritage railway special events. And it was the only engine for the ceremony to open a new passenger platform and running line at the Barrow Hill Engine Shed near Chesterfield in Derbyshire in May 2001.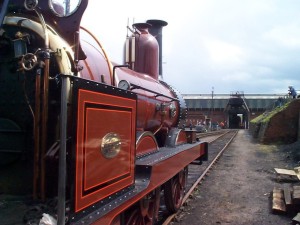 Barrow Hill is the last surviving roundhouse locomotive shed in Britain - where engines were stored in a circle, facing in towards a central turntable. It is a relative newcomer to the world of railway preservation, and has just opened it's Roundhouse Halt and running line. Furness Railway Number 20 - itself 7 years older than Barrow Hill shed - was brought in to haul the first trains.
Not only was there the spectacle of the last surviving roundhouse playing host to the oldest working standard gauge steam locomotive, but the VIP asked to name the new station also has a link to FR Number 20. The then Duke of Devonshire was the Patron of the Barrow Hill Engine Shed Society - but his ancestor, the 7th Duke, was an industrialist of note, who invested a large amount in the Furness Railway Company in the 19th Century - indeed he was a member of the Board that approved the purchase of Furness Railway Number 20 in the first place!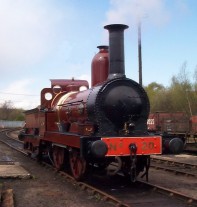 FR Number 20 was used to haul a short train of two brake vans for the event - suitable for the tight curves and sharp gradients on the Y-shaped running line. The crowds of visitors were delighted with the chance to ride on an open veranda behind the locomotive - and the crews were amazed at the number of people who lined the roundhouse turntable taking photographs when the engine was brought inside for a break between the morning and afternoon trains each day!

FR Number 20 was only at Barrow Hill for a few days - before moving on to visit the Midland Railway Centre at Butterley. FRT Chairman Tim Owen commented that the running line at Barrow Hill would have been a home from home for a Furness Railway engine, built to take iron ore from the tightly laid lines of the Furness mines down to the docks. "This was what she was built for" he said.
Home | About us | FR20 | 5643 | "Wootton Hall" | "Cumbria" | Vintage Train | Museum | Gifts | Live Steam | Links
İFurness Railway Trust
FR Number 20 in the last surviving Roundhouse shed!