THE FURNESS RAILWAY TRUST
Registered Charity 1005211
A film crew from the independent production company Wall To Wall Television visited the Lakeside and Haverthwaite Railway in May 2001, to make a programme for the Discovery TV channel.

The finished programme featured the Trust's Furness Railway Number 20, as well as other aspects of the Lakeside and Haverthwaite Railway. Our folk group Live Steam even managed to feature: the film shoot was used as an opportunity to launch the new CD "Silver Jubilee" at the Anglers Arms in Haverthwaite.

The programme was transmitted in September 2001 as part of a series of twenty, visiting different heritage railway operations around the country. The programme praised the spirit of the volunteers.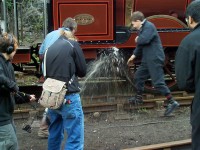 The section of the programme devoted to Furness Railway Number 20 talked about the engine's status as the oldest working standard gauge locomotive in Britain, and the work that is needed to keep Number 20 in top condition.
Alan Middleton, the Furness Railway Trust's Engineer, was on hand to explain its workings, and to press-gang the TV crew into helping drain the boiler for its annual test - the railway equivalent of an "M.O.T."
Home | About us | FR20 | 5643 | "Wootton Hall" | "Cumbria" | Vintage Train | Museum | Gifts | Live Steam | Links
İFurness Railway Trust
FR Number 20 on TV's Discovery Channel