THE FURNESS RAILWAY TRUST
Registered Charity 1005211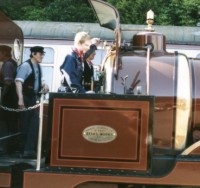 Adrian Wood from Morecambe in Lancashire always dreamed of driving a steam engine. And, thanks to the BBC's digital children's TV channel CBBC, now he has!
CBBC's programme "XChange" approached the Lakeside and Haverthwaite Railway to see if it could help make Adrian's dream come true - for its feature "Dream On". Furness Railway Number 20 was due to be in steam on the day filming was to take place, so Adrian not only got to drive a steam engine, he got to drive the oldest working standard gauge locomotive in the country!
Adrian, and the crew from CBBC, spent the day with Number 20. After arriving at Haverthwaite on a service train, he changed into overalls, and helped the Trust's Tim Owen and Alan Middleton prepare the locomotive for service.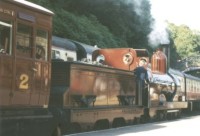 Then, under careful supervision from Tim and Alan, he took to the regulator, and helped shunt the Trust's North London Railway 2nd class carriage and a Shark Brake van out of the sidings into Haverthwaite Station. He then took charge of the train to drive through the platform for the cameras. We can honestly say he was a natural - he took instantly to the controls, and one day we'd like to see him come back as a fully-fledged driver!
And his verdict? A big thumbs up!
The edited item was broadcast on CBBC in November 2003.
Home | About us | FR20 | 5643 | "Wootton Hall" | "Cumbria" | Vintage Train | Museum | Gifts | Live Steam | Links
İFurness Railway Trust
How CBBC made a dream come true!