THE FURNESS RAILWAY TRUST
Registered Charity 1005211
Furness Railway Number 20 rounded off a truly remarkable Millennium year with its star-turn appearance at the North Yorkshire Moors Railway for its Rail 175 Steam Gala.

Number 20 was paired with two vintages coaches to haul special trains between Pickering and Levisham, a distance of six miles and the longest continuous run yet tackled by the engine since it was retired from Furness Railway mainline work in 1870!

All the trains were full, and drew in the photographers who normally concentrate at the other - much more hilly - end of the railway.

The valley echoed to the sound of Britain's oldest standard gauge steam locomotive doing what it does best!

For a larger version of this picture, visit the FR 20 picture gallery.
After the event, managers at the NYMR praised these special trains as "spectacular and unique", and called the Furness Railway Trust's contribution in providing Number 20 "magnificent".

It's even said that the majority of the staff at the railway's Pickering Headquarters have "fallen in love with Number 20"!

The engine had stayed on at the Moors line in a last-minute change of plan, after working alongside Oscar-winner Gwynneth Paltrow on her current film. The Moors management were so pleased with the way Number 20 had performed for the cameras, it was asked to do a repeat show for the visiting passengers on October 6th - 9th 2000.
The Rail 175 Gala was put on by the NYMR after plans were abandoned for a major cavalcade at Shildon to mark the 175th anniversary of the Stockton and Darlington Railway - the world's first public railway. Furness Railway Number 20 was the "must have" engine for that event - it had been the oldest original and working engine booked for Shildon - and was "must have" at the North Yorkshire Moors Railway event too!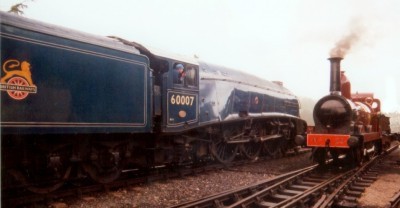 Click here to find out more about the North Yorkshire Moors Railway on its own website.
Home | About us | FR20 | 5643 | "Wootton Hall" | "Cumbria" | Vintage Train | Museum | Gifts | Live Steam | Links
İFurness Railway Trust
Furness Railway Number 20 "Magnificent" on the Moors