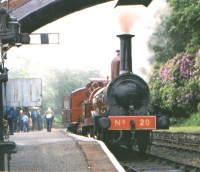 Furness Railway Number 20 made summer Tuesday evenings its own, with its Victorian Evening special trains on the Lakeside and Haverthwaite Railway for its first ten years back as a working steam locomotive.
The Trust's flagship locomotive is now based at the prestigious Locomotion - the National Railway Museum at Shildon in County Durham, as operational locomotive in residence.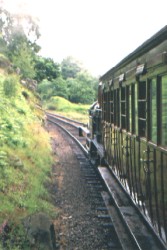 The 1863 veteran was paired with the FRT's 19th Century carriage and the Furness Railway Company's 1891 built Windermere lake steamer MV Tern also joined in the fun.
Passengers were treated to a ride from Haverthwaite to Lakeside behind Furness Railway Number 20. The first fifty people have the added bonus of being able to get the complete picture of railway travel in a bygone age, by riding in the North London Railway 2nd class Coach.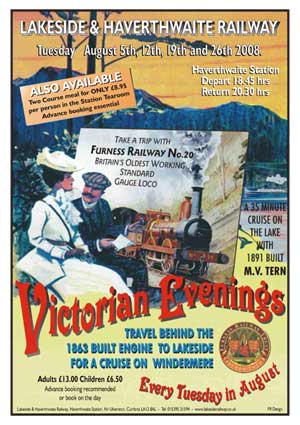 During the journey, the train stopped at Newby Bridge Halt, where the passengers had the chance to take photographs of the locomotive and train (with the North London Coach immediately behind the tender) as it performed a run past through the station.
Then, at Lakeside, passengers transferred to the MV Tern for a half hour cruise on Windermere before the return train journey back to Haverthwaite.
Both the train crew and a fair number of passengers turned out in Victorian costume - and many passengers lingered after arrival back at Haverthwaite to savour the unique atmosphere.
The publicity poster for these popular trains was produced by FRT Volunteer Phil Cousins. It was based around an original Furness Railway publicity poster, and also features Roger Street's limited edition watercolour of FR Number 20 in action.
The Victorian Evening trains no longer run, as FR20 is no longer based at the L&HR.
Meanwhile, keep in touch with this website for more details of events involving Furness Railway Number 20.
Home | About us | FR20 | 5643 | "Wootton Hall" | "Cumbria" | Vintage Train | Museum | Gifts | Live Steam | Links
İFurness Railway Trust