THE FURNESS RAILWAY TRUST
Registered Charity 1005211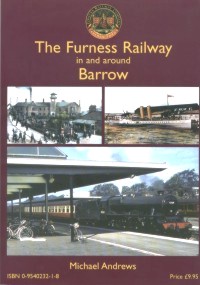 by Michael Andrews
Published by the Cumbrian Railways Association
ISBN 0-9540232-1-8
SOLD OUT!
This book is now out of print and there are no plans to print further copies.
This superb book charts the history of the Furness Railway in the town it created - Barrow in Furness.
From a hamlet in 1846, the railway company created a sizeable town, docks, iron and steel works, and shipyard, all interwoven with railway tracks, and served by no less than 8 different railway stations over the years.
Barrovian Dr Michael Andrews originally wrote this as a university night school dissertation 50 years ago, and it was deposited in Barrow Library Records office. The manuscript was rediscovered recently, and following suggestions from the Cumbrian Railways Association, it has been turned into a fascinating book, with many not-seen-before photos, which charts the amazing changes in Barrow's short life.
Click here to return to main FRT Sales page.
Home | About us | FR20 | 5643 | "Wootton Hall" | "Cumbria" | Vintage Train | Museum | Gifts | Live Steam | Links
İFurness Railway Trust
"The Furness Railway in and around Barrow"