The story of Furness Railway Number 20

by Tim Owen

ISBN 0-9519201-8-9

Price £5.95 including post and packing in the UK

This lovely book has been published to celebrate the return to life of Britain's oldest working standard gauge steam locomotive, Furness Railway Number 20.

Written by Tim Owen, a leading light in that restoration, it's the story of the circumstances surrounding the birth of the engine in 1863, and the series of amazing turns of fate that culminated in its debut on the heritage railway stage in 1999, 136 years later!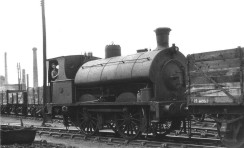 Photo: H.C .Casserley
This was an engine that was sold off after less than a decade by its first employers - was substantially rebuilt twice - and even survived a boiler inspection that should have seen it condemned, continuing in industrial service until 1960 at the grand old age of 90 (see photo).
But that wasn't the end of this remarkable tale of escapology: it avoided scrapping to become a playground toy, before being rescued for preservation - and finally, thanks to the Furness Railway Trust, rebuilt into its original, Victorian splendour. FR No. 20 is also an illusionist... the book reveals how it managed to live under an altered identity for most of its life. Intrigued? You should be....
Since its debut in 1999, it's been taken to the hearts of the people in its native Furness, where it's a reminder of the area's proud industrial heritage, and has also won many fans across the country and even further afield.
The book is a must-have souvenir for anyone who has ridden behind this living engine, but it will also appeal to the historian and railway modeller.

There are chapters on the early Furness Railway locomotives that led to the development of Number 20, and its time with the F.R., as well as its service at the Barrow Iron and Steelworks.

And for the modellers, there is a 7mm scale drawing, and a wealth of photographs of Number 20 and its classmates.
But this is also a human story - from 1860s dogma on the best locomotive design, the tragedy that clouded the first attempt at restoration, and the nail-biting wait to hear if the Lottery funding application had been successful.
The book is a collaboration between the Furness Railway Trust and the Cumbrian Railways Association, Registered Charity 1025436.
It is available from bookshops across Cumbria and larger national booksellers, or by mail order using this website: click here to return to main FRT Sales page for details of how to order by post.
Home | About us | FR20 | 5643 | "Wootton Hall" | "Cumbria" | Vintage Train | Museum | Gifts | Live Steam | Links
İFurness Railway Trust