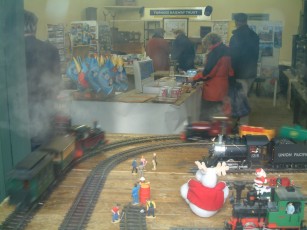 The Furness Railway Trust had another successful shop and exhibition at the annual Dickensian Weekend in Ulverston in 2013.
The Trust sets up in the Emmanuel Christian Centre on Mill Street.
As in recent years, there was real steam action - with Sam Sparkes from Ulverston and friends bringing along model live steam locomotives to run on a demonstration track to entertain the crowds.
Ulverston was one of the major towns served by the old Furness Railway Company.
The now annual Dickensian Festival features all the shopkeepers and many visitors wearing Victorian costumes. The Christmas Lights are switched on during the Festival, and it marks the start of the Christmas shopping season in Ulverston.
The FRT shop showcases "The Victorian Railway" with a display of railway artefacts and a stand featuring our quality merchandise which is open throughout the two day event.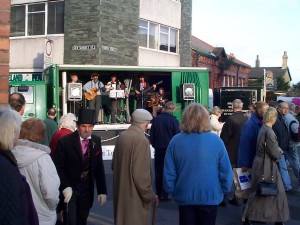 Our folk band Live Steam again took part, entertaining the crowds with a set to close the festival on the Sunday.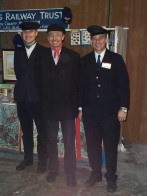 The shop includes the Furness Railway Trust sales stand, a video display of Furness Railway Number 20, 5643 and other engines in action over the years, and a collection of railwayana.
The Trust Chairman Tim Owen is pictured here (centre) with Sales Officer Jim Kay Jnr (right) and Publicity Officer Neil Smith (left).
To find out more about our Sales Stand, click here.
Click here to return to the main FRT Sales page to make a purchase!
Home | About us | FR20 | 5643 | "Wootton Hall" | "Cumbria" | Vintage Train | Museum | Gifts | Live Steam | Links
İFurness Railway Trust