THE FURNESS RAILWAY TRUST
Registered Charity 1005211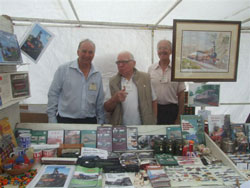 The Furness Railway Trust operates a Sales Stand at a number of events around the northwest of England each year.
Profits from the sale of "The Great Survivor", the Limited Edition Print of FR Number 20, and our other products, as well as other railway-related goods, go to help fund the Trust's restoration projects.
The Sales team is led by Jim Kay Jnr, seen here (left) with regulars Tom Bradshaw and Vernon Smith, who have amassed countless sales visits over many years between them! This photo was taken at Tram Sunday in Fleetwood in 2009.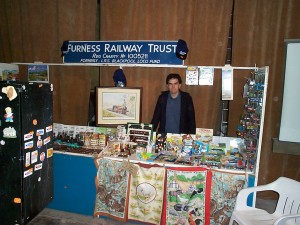 The Sales team is also behind the shop run at Ulverston's Dickensian Festival every November. Trust Member Andy Furness is seen here behind the counter during this event.
If you would like the FRT to visit your event, please contact us with your details.
Click here to return to the main FRT Sales page to make a purchase!
Home | About us | FR20 | 5643 | "Wootton Hall" | "Cumbria" | Vintage Train | Museum | Gifts | Live Steam | Links
İFurness Railway Trust
Furness Railway Trust Sales Stand