The Furness Railway Trust has been donated a matching twin to its already operational North London Railway 2nd class carriage. Unlike the one already in service, whose identity remains an enigma, this one still bears its operational number, 106.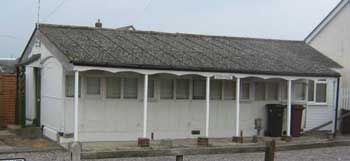 For decades, this Victorian coach body was one of two that formed part of a holiday home on the south Coast of England, but when plans for demolition were drawn up, the owner decide to try and find a home for the historical vehicle bodies. The other body, a Stroudley carriage, has gone to the Bluebell Railway which already has a pedigree for restoring such carriages. And once Number 106 was identified as a NLR product, the Furness Railway Trust was contacted because of its expertise in restoring an identical North London Railway 2nd class carriage.
The pair were incorporated into a holiday home some time after May 1920, and consisted of the North London coach to the front separated from the Stroudley to the rear by a 4 foot hallway, with a roof pitched over the whole and the two verandas which have kept the weather away from the carriage bodies.
The Trust was invited to inspect the vehicle, and found it to be in a very good condition.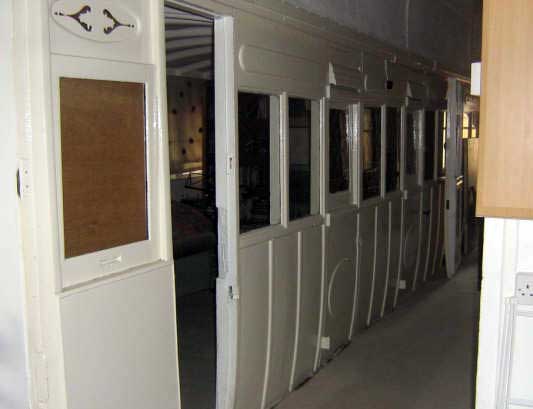 So, we had thought our North London coach was a unique survivor, the only extant NLR 2nd class carriage. Now we have been proven to be wrong, but we can now claim to own a unique pair of NLR 2nd class carriages!

Unlike our restored NLR 2nd class carriage, not only do we know this one's running number, we also have an example of the original Lincrusta wall covering still in place, as well as this wonderful notice, which urges passengers not to open the doors except when at a station, and warns them that smoking in a non-smoking compartment could render them liable to a fine of 40 shillings (£2)!
This coach is the icing on the cake for our vintage train; we started with a vehicle with genuine Furness Railway roots, but through this restoration found the Birdcage brakevan, the First class/Ambulance coach, and now this vehicle. In addition to our flagship Royal carriage, we have a complete Victorian train in the making, made up entirely of matching NLR stock. Unlike so many vintage trains which can have the appearance of so many mismatched chicken sheds on wheels, this train will really look the part! Restoration will commence once the Trust has secured its Museum/Workshop to provide proper accommodation.
Both vehicles were removed in May 2008. Number 106 has been removed to a private site in Lancashire for inspection and eventual restoration.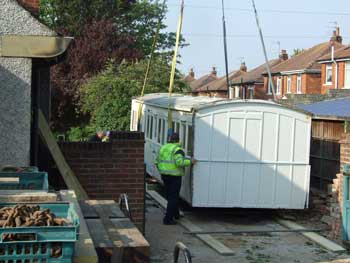 Home | About us | FR20 | 5643 | "Wootton Hall" | "Cumbria" | Vintage Train | Museum | Gifts | Live Steam | Links
İFurness Railway Trust