THE FURNESS RAILWAY TRUST
Registered Charity 1005211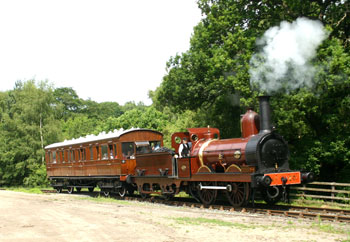 This stunning vehicle has been overhauled to working order for the first time in almost 40 years --- to carry ordinary passengers for the first time in its life!
It's now at the Beamish Museum in County Durham to launch the first passenger carrying services on the newly upgraded standard gauge line there.
The flagship carriage for our vintage train was built for no less than the wife of the heir to the throne and later saw service as an inspection coach until 1972. You can read the full history of this wonderful royal carriage here.
So until now it's never carried "real" passengers!
It's hard to believe that its only 9 months separate the two photographs below - one taken when the carriage had just left storage after so many years and was arriving at Appleby for overhaul, the second taken at the end of the overhaul as it left Appleby. You can read the fascinating month by month behind the scenes diary of the overhaul here.
This vehicle joins our already-restored North London Railway Second Class carriage, and the still to be restored NLR First Class Coach, NLR 2nd class carriage Number 106 and the NLR Birdcage Brakevan in our future Vintage Train.
GER No. 5 promises a range of future uses - it is the undoubted flagship for our vintage train but equally can be used on its own; because it contains a compartment for the Guard, as well as toilet and pantry facilities, it is a complete train in a single vehicle, and that pantry offers all sorts of interesting possibilities too! It's first contract is a solitary booking away from the rest of the vintage train - carrying passengers at the Beamish Museum in County Durham.
After over a century's existence carrying royalty and then railway top brass, and nearly 40 years out of use, it is carying its first ever normal passengers...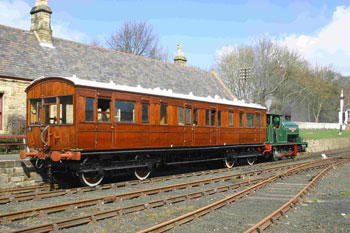 Home | About us | FR20 | 5643 | "Wootton Hall" | "Cumbria" | Vintage Train | Museum | Gifts | Live Steam | Links
İFurness Railway Trust
The FRT's former Royal Saloon GER No. 5